Not Quite Vegas News and Announcements
Championship Info
Thank you to all of our loyal players for making the recently completed Spring 2019 NQV Championship Tournament a huge success!!
Congratulations to the following winners:11th place: Jeff M, 10th place: Lauren "page 6", 9th place: Lorena C (7/9 baby), 8th place: Ray K, 7th place: Pat L, 6th place: Blake K, 5th place: Marty M, 4th place: Warren D, 3rd place: Lorne S, 2nd place: Joe A, 1st place: Henry G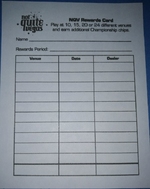 Venue Promotions & Info
NO poker at Copper Chimney on Sunday, June 16th
Double Wins at ALL venues for two weeks, thru June 23rd!!
Venue Card promotion: as an incentive to get players to visit more/new venues, we are running the NQV Venue Card promotion. For each individual venue that a player visits, and plays a MINIMUM of 3 games at, the player will receive a signature on their personal Venue Card. As the player reaches the plateaus designated on the card (10, 15, 20, and 24), they qualify for bonus chips at the October 2019 Championship tournament! Qualification for this promotion runs from June 1st thru August 31st.
Minimum of 3 games played at the venue to qualify for the signature

If a venue has NQV poker multiple times per week, each individial day counts as a separate venue

June 1st thru August 31st, chips added to the October 2019 Championship tournament chip stacks

10 signatures = 5,000 in extra chips

15 signatures = 10,000 in extra chips

20 signatures = 15,000 in extra chips

24 signatures = 25,000 in extra chips

Ask a dealer if you have any questions!
Double Wins for dealer's birthdays:
New Venues
Strike Zone Entertainment Center in Sebastian will be adding NQV poker on Thursdays at 6pm, starting June 13th. Double wins for the first three weeks!
Green Marlin Restaurant & Raw Bar
in
Vero Beach
will be hosting NQV poker on Sundays at 4pm, starting May 19th. Double wins for the first three weeks!
Important Rule Update
Happy Birthday from Not Quite Vegas! Play at a venue on your birthday, and get an extra 500 "birthday" chip every game! Also, play at a venue on the dealer's birthday, and its double wins!!
READ MORE